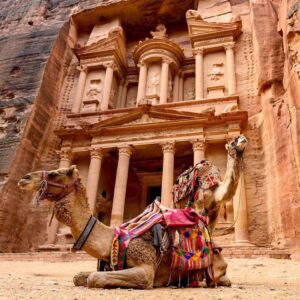 You must be jumping with joy now, for the time to visit Jordan is almost here. Pack your bags and get ready for the much awaited trip to Jordan. We will be spending some days in Jordan, sightseeing at each and every stop. After we travel to Jordan, we will get to explore a different version of ours within us.
Insight into travel to Jordan
We will begin our trip with a short tour organized to Amman. Our entire team from ME-WONDERS will assemble for a meeting in the lobby, wherein we will discuss the whole Jordan tours plan with all the travelers. Our experts will give advice or suggestions that you may need to know before you travel to Jordan. Among other attractions that we will see in Amman, the Citadel and the theatre, and Umayyad Palace are the major attractions. We will have a happy beginning to our trip by visiting Amman.
Overview of Day 2: Travel to Jordan
Then, we will set our feet for Mount Nebo and the Dead Sea. We will enjoy a gala time here. We will see a beautiful panoramic view from the top of Mount Nebo, and in the latter half of the day, we will be floating on the Red Sea. It will be a day packed with fun and adventure. It will be one of those dreamy days in our travel to Jordan.
Trip to Petra
Fast forward to the third day of your trip to Jordan. Our team from ME-WONDERS will be en route to visit Petra, the most popular tourist destination in Jordan. We will engulf the enriched history pages that come from Petra. The evidence of delicate architecture brings shades of attraction to the site.
Beauty of Wadi Rum
And then comes our pre-planned trip to Wadi Rum. ME-WONDERS is the best travel agency in Jordan. Not only because of the excellent services and the gracious hospitality but also because of our efficient tour itinerary. We have planned our tour based on extensive experience and research.
Travel to Jordan at ease
The trip to Jordan is planned with utmost delicate hands by our experts. We keep in mind the weather conditions at any particular time, thus modifying our itinerary. If you want to travel to Jordan, then ME-WONDERS is much ahead of any other local travel agency. We never compromise on quality throughout the trip. Our trips are tourist friendly and very convenient for the tourists.
Trip to Jordan is easier!
Contact ME-WONDERS for a trip to Jordan at the earliest. We offer A-class services at the most affordable price. Moreover, our trips comprise a small number of people, so we promise to take care of the needs of each individual. Book your slots now itself to avail early bird discount while you enjoy your travel to Jordan.