Only a happy and satisfied tummy can be the secret to a perfect trip to any corner of the world. So, it is very important to know the cuisine in a particular area that will certainly impress you. We have stalked through each of these restaurants as well as collected reviews from tourists hailing from different parts of the world. Our today's blog is a brief presentation of our intense research on some of the tasty dishes in Jordan.
We will present to you the most famous cuisines in Jordan and the best restaurant from where you can grab it. So, are you all ready for the following mouth watering paragraphs?
Mansaf
You dare not miss this mouth watering dish at the heart of Jordan. Mansaf is prepared from shredded lamb meat which is fermented with yoghurt. This tasty dish is served with rice and is certainly going to make you crave for more. Different spices are added to prepare different flavours of Mansaf. Taste this so-called 'National Dish of Jordan' at any time at any outlet throughout the country.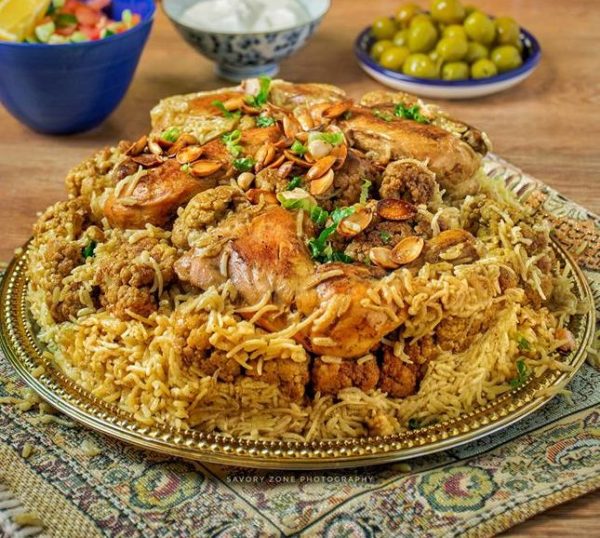 Maqlooba
Maqlooba is one of the spicy and tasty dishes that you can expect anywhere in Jordan. It is prepared from rice, meat of choice, and fried vegetables, cooked in different types of spices. The dish is named Maqlooba, which means "Upside Down" because when served, the pot is flipped upside down. Craving to taste a plate full of Maqlooba? Join us in our upcoming Jordan trip.
Falafel cuisine
If you are not knowing what exactly is Falafel, worry not, we will help you out. Falafel is a combination of ground chickpeas, mixed with various types of spices and then deep fried in oil to give the shape of patty. They are the most famous snacks in Jordan and can be eaten with bread or stuffed in special sandwiches. To try out the best version of this fluffy inside and crunchy on the outside nuggets cuisine, head towards Falafel Al-Quds at Amman and order a plate of Falafel sandwich. The restaurant remains open from 10:00 a.m. to 9:30 p.m. daily.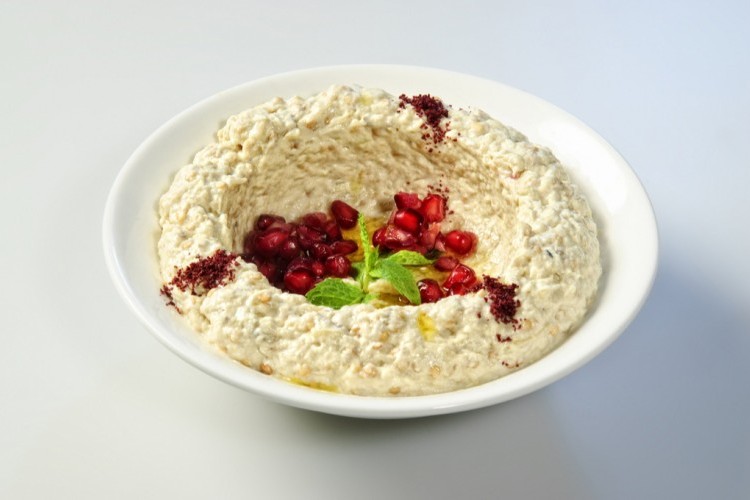 Moutabel cuisine
Presenting you, one of the finest tasting cuisines in Jordan; moutabel. It is a type of eggplant which uses sour yoghurt in the recipe to add a tint of taste. This can be prepared in any method; either roasting over fire or deep frying. Get yourself seated at Hashem Restaurant at Amman to taste a bowl of super tasty moutabel.
Hummus cuisine
This is perhaps the most widely known cuisine hailing from Jordan and famous all over the world. The taste of hummus is so alluring, that you will experience a magnetic attraction as soon as you see some restaurant preparing or serving hummus. Although there is a single technique of preparing humus, surprisingly, every restaurant will serve hummus that tastes different from another one. This is mainly due to the ratio of ingredients added while preparing the dish. Do you still have the question, from where you can taste the best hummus? Just enter any restaurant and you will be amazed by this tasty dish.
Galayet Bandora
The taste of the cuisine is just as alluring as the name. The chief ingredients of this dish includes tomatoes which are stewed until soft and pureed, with a few seasonings like garlic, olive oil, and salt. The taste of the dish is based on the tartness and sweetness of tomatoes. The taste of Galayet Bandora anywhere in Jordan is much better than you can ever expect.
So, hungry peeps, are you all set to taste these amazing foods in Jordan? These cuisines taste heavenly and you cannot just resist yourself from having a dishfull of each of these. For taking a trip to Jordan, you can contact ME-WONDERS. We organise tours to Jordan at the most affordable cost. And yes, obviously we have our special attention to the comfort of each of our tourists which includes cuisines, residence and health issues. Contact us now to book your slot of Jordan trip in your next vacation.